Jewellry Artists of Barbados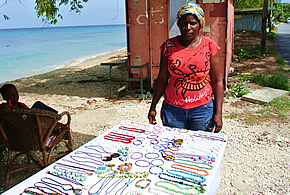 It started on the beach; the vendors with their beads, shells and coral way back in the 60's and before:. People with skill and patience threaded beads for necklaces and wrist bands which the tourists bought. They are still there and now add precious stones and metals to their wares. In addition, a whole new breed of fashion jewelers, metal smiths and artisans have taken root in the island.
Their work is fashioned by the Caribbean: the sea, shells, fish, coral and the lush tropical flora are abstract inspirations of new works. Earrings hang like silver folded leaves, - rings of beaten brass and silver studded with emeralds, wearable art that swirls like the ocean and flows with movement.
Now the island has award winning designers like Ichia TIYI. 'TIYI By Design' is one of the several Caribbean brands of hand-crafted, art jewelry, where each product is individually designed by professional metal smith and jeweler; Ichia Tiyi.
Luna Design by Ernesto and Gloria Neira uses vegetable ivory to create beautiful hand crafted wearable art. Their bracelets, necklaces and costume jewelry are fashioned from the polished, dyed and processed iron hard seeds of the Corozo nut, a palm tree that grows in the rainforest of South America. The nuts are dyed with environmentally, and people-friendly vegetable dyes.
The seeds are harvested in Colombia and shipped to Barbados where they transform into much prized art now exported to the world.
Jewellry Artists of Barbados
Surname
First Name
Address
Tel# (246) +
Description
Exhibitions
Caddle
Nefatari
St. Stephen's, Blk. Rk., St. Michael
424-5122
Natural Jewellry
Exhibited at Queen's Park Gallery. Fairs.
Chung
Gloria
29 Sheraton Park, Apt. 22 Ch. Ch.
437-1279
Finde Art - Jewellry
-
Parris
Louise
-
429-0940
Jewellry
-
Alleyne
Shelley
-
437-0265
Jewellry
-
Arthur
Rodney
-
424-2760
Costume Jewellry
Nifca ' 96 . Many exhibits at Queen's Park
Allsop
Disa
-
422-3899
Silversmith
Open House at Illaro Court.