Web Marketing & Services
Web Marketing Services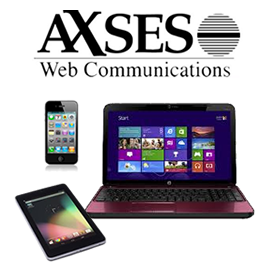 Axses Web Communications provides a full range of web marketing and internet development services including:
Website design
Website development
Mobile web development
Responsive web design
Programming
Social application development
Mobile application development
Content management
Internet marketing & promotions
Travel trade announcements
Press releases
Contact us for a quote or to discuss your requirements.
Barbados.org Marketing Channel
Barbados.org, the most established and highly ranked website about Barbados. Barbados.org offers detailed information on Barbados, with thousands of images and pages covering everything from local heritage and architecture to hotels and shopping.

Barbados.org is heavily linked to from authority travel, news and university sites and is vigorously promoted through social media.

The site displays over a million page views monthly to nearly a half million visitors, with over 130 million hits a year!.
Contact us to promote your hospitality or travel business on Barbados.org.
Contact Us
Please contact us with your request by e-mailing us at barbados@barbados.org. Be sure to provide your full contact details and the services in which you are interested. We look forward to hearing from you.
Caribbean Dreams Publishing 
Guinea Plantation
St. John
Barbados

Tel: 1 (246) 423-0039

Email: barbados@barbados.org
Internet Marketing Services
We provide information and consultation on the many other Internet channels available to you. We constantly track Internet market trends and activities and can help you create the right strategy in this dynamic marketing medium.

Our Social Index Engine service is designed for your hotel and tourism marketing and for 100 other industry niches. See http://www.axses.net/socialindexengine for more information.
Technology Services ››
Axses are pioneers in the development of Internet technology, particularly for the travel industry. Our products include Visual Bookings Technology, an interactive, intuitive, highly responsive and visual bookings service; arcRes reservation engine and e-commerce system; RealHolidays dynamic packaging system; and DestinationSuites the complete destination portal.
Our software is designed to meet the multiple needs of the travel market - from travellers looking for easy-to-use, functional sites; to resort managers who require efficient software sensitive to their management, marketing and branding needs; to travel agents who need a system to handle marketing and communications services.
Axses is also heavily involved in other Internet technology, including:
e-commerce development
delivery of content to multiple platforms
content management and portal management systems
document management systems
media management systems
website design
website hosting
online marketing (including search engine optimization)

Please contact us for more information on these services.