Former Prime Minister of Barbados - Freundel J. Stuart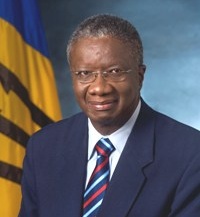 Freundel Jerome Stuart served as the 7th Prime Minister of Barbados. He first acted in the post in May 2010 when former Prime Minister David Thompson became ill. After Mr.Thompson's untimely death in October 2010, Mr. Stuart was sworn in as Prime Minister by former Governor General Sir Clifford Husbands.
In the 2013 general elections, Mr. Stuart lead the Democratic Labour Party (DLP) to victory, winning his first election as Prime Minister of Barbados and securing a second term in power for the DLP. He served as Prime Minister until May 2018.
Mr. Stuart officially joined the Democratic Labour Party in 1970 and successfully entered elective politics in 1994 when he represented the St. Philip South constituency. From 2003 - 2007 he served in the Senate but returned to the Lower House of Parliament when the DLP won the 2008 general elections.
Mr. Stuart served as Attorney General and Minister of Home Affairs, and Deputy Prime Minister from 2008 before acting as Prime Minister.