Barbados Holders Season
PLEASE NOTE that the Holders Season festival has been discontinued.
About the festival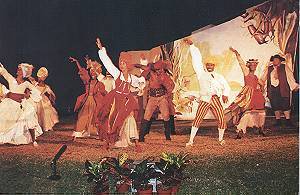 Founded in 1993, the Holders Season is established as the premier cultural event in the Caribbean. Acclaimed nationally and internationally, the season is a celebration of opera, music and theatre. The production always plays to capacity houses and its high artistic standard draws audiences from around the world.


Holders House, St. James, again plays host to this musical and theatrical festival. This stately house has been in existence for over 300 years and is an interesting mixture of English and Barbadian vernacular. The grounds are extensive and lovely with mature tropical trees and shrubs, the perfect setting for the open-air theatre that comes alive every year during the Holders Season.
Find accommodation
Find somewhere to stay in Barbados during Holders Season:


Contact Info
Holders House,
St.James, Barbados, West Indies

E-mail: theseason@holders.net
or info@holders.net
This information is intended for use as a guide only. Every effort has been made to ensure the accuracy of the information published, however AXSES Systems Caribbean cannot be held responsible for any errors, omissions or changes. Always confirm your plans first with your travel agent or the event organiser.