Barbados Half Day Highlights Island Tour

This is the ultimate Barbados island tour, with stops at the most breathtaking sights and intriguing attractions on the island.
Stroll through colourful tropical gardens that enchant and delight
Be awed by breathtaking views of a rugged coastline
Step back in time at a historic windmill
Stop on a hill-top for incredible views of sugar cane fields & the coast
Explore a stunning plantation home & taste the local rum!
The ultimate Barbados island tour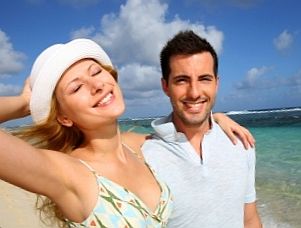 Your day begins with pick-up by your friendly tour guide in a comfortable coach, either at your hotel or, if you're visiting by cruise ship, at the Bridgtown port.
Then you head into the Barbados countryside to the tropical delight of Huntes Gardens. As soon as you step into these gardens you'll understand why they've been called "a little piece of paradise on earth". Follow the meandering paths to discover tropical flowers, colourful hedges and towering palms, all the while relaxed by the chirping of birds and delightful music playing from hidden speakers. It will be hard to leave but more adventure awaits!
Hop back on the tour bus for a quick drive to the seaside village at Bathsheba. Be sure to have your camera ready to capture the hill-top view, rolling Atlantic waves, and fascinating rock formations that dot the shoreline.
You'll be taken along the east coast of the island to your next stop at Morgan Lewis Windmill, a historic treasure exquisitely preserved by the Barbados National Trust. The view alone is worth a visit, but you'll also have the opportunity to tour the windmill and learn about the history of sugar production on the island.
Speaking of views, your next stop is truly spectacular. At Cherry Tree Hill the countryside, sugar cane fields, Scotland District, pond and nearby coastline lay before you in majestic form.
There's no better way to end the tour than at magnificent St. Nicholas Abbey. Take a tour of the historic plantation home with its impressive Jacobean architecture; meet the friendly cockatoos; and see how local rum is made right on the plantation.
Enjoy island views, or a quiet nap, as your guide returns you safely to your hotel or the cruise port.
Bonus:
Staying at a hotel? This half-day tour gets you back in time to hit the beach!

Visiting on a Caribbean cruise? After drop-off take a short stroll to Pelican Centre for refreshments, gifts and souvenirs.