Barbados Libraries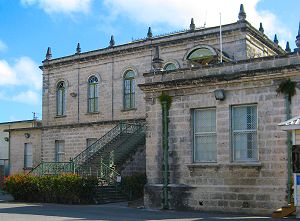 The Barbados National Library Service includes the main library in the capital city (Bridgetown) and eight branch libraries located across the island - Eagle Hall; Gall Hill; Holetown; Oistins; Speightstown; Six Cross Rds; Tamarind Hall and Valley.
The main branch of the library was established in a historic coral-stone building in 1906 thanks to a grant donated by philanthropist Andrew Carnegie. The building is currently slated for renovation and the library has been temporarily relocated near Independence Square in Bridgetown.
In agreeing to fund the establishment of a free library in Barbados, Andrew Carnegie wrote the following to Barbados' Governor on August 22, 1903: "in regard to the Free Public Library for Bridgetown Barbados ... If you agree to make the library free, and on the understanding that the Government will continue its support of the Library at the rate as now, I shall be glad to comply with your request that I should give twenty five hundred pounds (sterling) to erect a Free Public Library Building."
Library membership is available to Barbadians and visitors.