Barbados Cutters
What is a "cutter"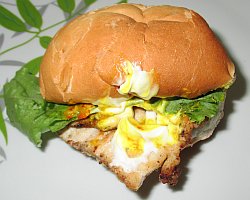 A Barbados cutter is sort of like a sandwich but much, much better! It begins with a Bajan salt bread, a freshly baked bread roll with a crusty exterior and soft, fluffy interior. Despite the name, it actually isn't salty at all.
While available in wholewheat for the health-conscious, the purists will insist that a true salt bread must be made from white flour! Both are delicious nonetheless. Bajans are very loyal to their bakery of choice, with each insisting that theirs bakes the very best salt breads!
Cutters can be eaten at any time of the day (or night!) but are most popular as a lunch-time snack.
Different types of cutters
Once you have your salt bread, it's time to move on to the savory stuffing. Once again everyone has their favourite but here are the most popular:
Fish cutter - either fried flying fish or fried steak fish such as marlin, billfish, tuna or mahi mahi.
Ham cutter - thickly cut slices of ham (either leg ham or picnic ham)
Cheese cutter - slices of cheddar cheese
Liver cutter - breaded and fried chicken livers
Bread and Two - two Bajan fish cakes. Popular for breakfast.
Egg cutter - fried egg

Most cutters are served with lettuce and tomato in the salt bread. We highly recommend topping your cutter with some good Bajan pepper sauce!
Where to get a cutter
You aren't likely to find cutters in any fancy restaurants. Instead head to the rum shops, food trucks and casual beachside eateries (such as Cuz's Fish Stand) for this special Barbados treat!

Enjoy!
Read more about traditional Barbados foods.