Barbados Deals On Travel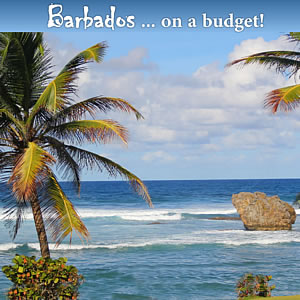 An expensive destination? Not necessarily!
Our lovely Caribbean island is a favourite holiday destination for many celebrities and the very wealthy. In fact, several love Barbados so much that they have chosen to buy or build second homes on the island.
This sometimes leads to the misconception that vacationing in Barbados is very expensive, however that is not true. By taking advantage of these travel deals and tips, you'll see that a Barbados vacation is well within your budget.
Barbados on a budget
Travel off-season

. The main tourist season runs from December to April. Rates drop dramatically off-season. Just compare off-season and peak season hotel rates to see the difference. Many local restaurants also offer excellent 3-course meal deals in summer.

Book direct with a hotel

. Many hotels offer lower rates when booking online plus they'll offer you special deals and promotions and may be willing to negotiate. Check out these places to stay in Barbados. If you're a repeat visitor to Barbados then your hotel, villa or apartment may offer you a repeat discount, but always shop around to make sure you're getting a good deal.

Consider self-catering accommodation

. These properties are often much cheaper than full-service hotels but still have great amenities and location. This is an especially good choice if you're travelling in a group, with kids or for an extended vacation. See self-catering accommodation.

Try an all-inclusive

. Booking an all inclusive holiday makes it easy to stay within your budget. But all-inclusives aren't for everyone, especially if you like dining out. Read more about all-inclusive vacations.

Take a Caribbean cruise

. Cruises are excellent value for money and you'll experience several islands on one trip. The downside is you'll only have one day in Barbados :( Make the most of it!

Use social networking

. Like the BarbadosTravel page on Facebook or follow on Twitter to be alerted to the latest Barbados deals and special offers. Also, sign up for email fare alerts on AirfareWatchdog.com.

Plan in advance

. You'll usually get great deals on hotels & airfare when you book well in advance.

Pack smart

. The cost of non-perishable goods (think bug spray, sunblock and canned/packaged food) in Barbados is quite high. Bring what you can with you but factor in airline fees for luggage!

Find free entertainment

. Many island activities are free. Look out for weekly Sunday hikes, art exhibitions, lectures, and more.

Get Happy Hours deals

. Barbados bars and restaurants typically have Happy Hour deals with 2-for-1 on select drinks and other special offers.

Tap into local knowledge

. Chat with the hotel staff and locals you meet on the beach and around the island. They'll let you know the best spots and advise what you should expect to pay.

Use the freebies

. Free WiFi access is available across much of the island. Barbados maps are free of charge in hotels and at car rentals. See if you can use your airmiles for your Barbados flight. Check with your credit card company if travel insurance is included with purchases.
Barbados travel deals
Many Barbados hotels, car rentals, tours and activities offer deals and discounts throughout the year. Here are some examples of what's currently on offer. See BarbadosVacationSpecials.com for many more deals.