Donna, the beach vendor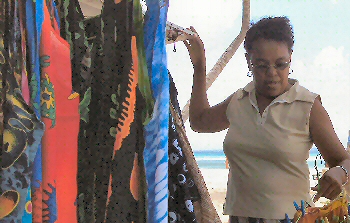 She makes her scarf's, shifts, shirts and shorts
With cloth from the haberdashery bought
Fine imports from the swan street stores
She knows just where to get the best
They treat her with great respect
And give her prices of the trade
For all the garments she has made
"Hey Miss Donna" they will say,
"Just a little bill to pay"
As she carts the store away.
Shopping early, stitching late,
Working fingers to the core.
Making garments for the beach,
Serving there from 10 to 4.
Stitching, hemming late at night
Rising with the crack of dawn
Morning chores out of the way
She digs her toes into the sand
And hangs her work for all to see
Fun clothing with a native flair.
Pretty colours, pink and blue
Sea green, red and yellow too
Patterned, fancy, simple ware
Flowing breezy on the racks
In Donnas Beach Bar Chattel Shack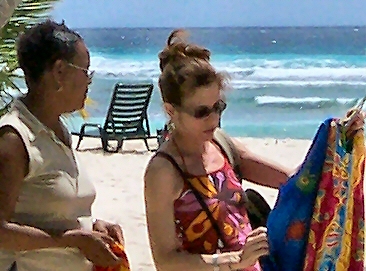 Donna is happy with her trade. She loves the outdoor life and all the people she meets. She is a single Mum with two daughters, one married. When the morning chores are done, there may be a quick visit to the haberdashery, but mostly it's to the beach in the old car. The clothes are carried back and forth in bags and the battered suitcase and hung up each morning. If something sells well it's off to the store again and more night time stitching.
"Sometimes people come and show me their new fashions, and I get ideas. I look at fashion mags all the time and have an eye for design. But my clothes are fun garments, not meant to be dinner party-wear, but mind you some do. Anything goes these days - sometimes people just want to make a statement.. I like to think my clothes are a statement. They tell people to loosen up and put a little fun in their life".
Sometimes Donna has company on the beach with Dina, who arrives with her umbrella and a suitcase of clothes, all carried on the bus. Dina, a firey independent with a charitable heart, will amuse you with her wit and independent views. "Are you here to help Donna" I asked her by mistake, "Listen to me", she said, we here are all independent traders with a license to be where we is, working for our ownselves. No one employing Dina, not Donna employing Dina and Dina don't employ no Donna!"