Smoking in Barbados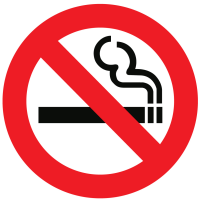 Smoking in Public Places
Smoking is not permitted in public places in Barbados. You should only smoke in areas where second-hand smoke is unlikely to affect other people.

A public place is defined as:
A building, place, structure or facility that is owned, controlled, managed or occupied by the Crown or a statutory board in Barbados;
place, site, building, factory, plant, workplace or other structure that is fully or substantially enclosed;
library, museum, auditorium, historic or other site of archeological or national significance, to which the public or a member or section of the public has access or is permitted to have access, with or without restriction to users and whether or not on the payment of money; or by virtue of membership;
Smoking on beaches
Beaches are not normally be considered public places, so smoking is permitted. Some public events, such as those held by the National Cultural Foundation, on beaches may be designated "no smoking" events.
E-cigarettes
E-cigarettes are covered by this law.
Punishment
Persons in violation of this law face prosecution and if convicted are subject to a fine, imprisonment or both.