Barbados Carnival: Crop Over, Kadooment & Jouvert
It's Party Time!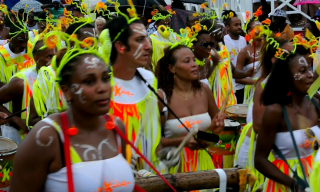 Barbados carnival is a time of costumes, revelry, drinking and fun in the streets of this Caribbean island.
Crop over is the season in which carnival takes place. It is a festival of celebration and thanks for a successful harvest dating back to the days when sugar was the primary drop in Barbados.

J'ouvert is a Caribbean word of French origin that describes the large street parties enjoyed in the islands of the Caribbean. In Barbados there are two main J'ouvert celebrations: J'ouvert Morning which starts just after midnight and the Kadooment jump that ends the Crop Over carnival season.
Kadooment is the Barbados word for Big to-do or big Party.