Preparing The Trip: Barbados Dress
Dress Code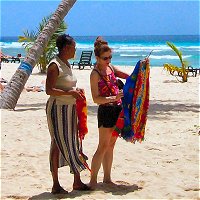 Bring clothes for the tropics.
Light cotton dresses and light jackets for formal wear.
Casual slacks and lightweight sportswear for the times when you are not in a bathing suit.
Beachwear should also include sunglasses, sunblock and beach footwear.
While Barbados is a fun holiday island, there are dress codes, and because of 300 years of conservative British heritage, formal attire is still seen at times other than weddings and funerals. Business men wear a shirt and tie and sometimes a jacket. Women wear smart dresses.
It's a good idea to wear pants and shirt when visiting the bank, it looks more respectful and gives you a pocket for your wallet.

Bathing suits are best for the beach, beach bars and the pool.
Please note that it is against the law to wear camouflage clothing and to carry items made out of camouflage material.