Horse Whispers: Handling Barbados Thoroughbred Race and Polo Horses
This is a fun look at how Barbados Holiday beaches and sea play a part in therapy, rest and exercise for the heritage horses of Barbados.
Read on to find out how this young horse is persauded against her better judgement into the ocean.
Read further to find accommodation and special packages for self catering holidays for the independent minded traveller in Barbados.
How is this Reluctant Filly Persuaded to Take a Dip?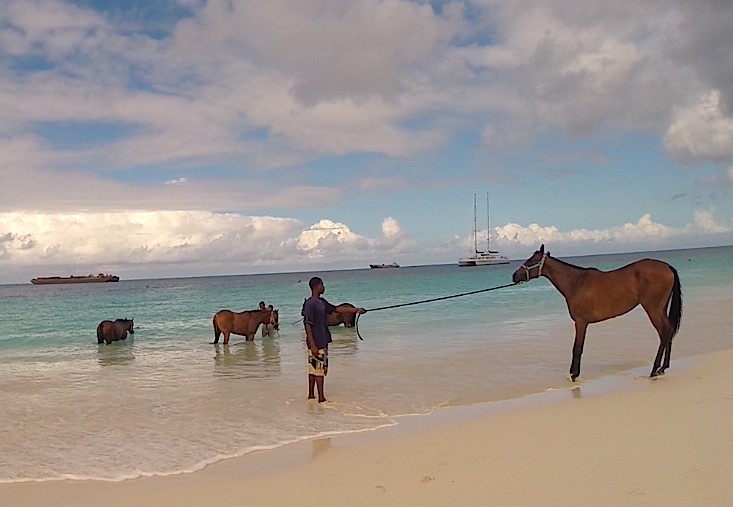 Can you guess what it might be? The solution will make you smile!
Watch the video for an unexpected ending to this beach standoff in what could be your next Barbados holiday.
To see how the story unfolds, click the video below >>
Horses and Heritage Holidays
Horses and trainers come down to the beach at about 8:00 a.m. They don't swim every day, and they don't keep a tight schedule. It all depends on what races are on and what the horses need. It's part of a routine and they often will bathe after a race and at anytime when sea water and exercise is prescribed. And that can be several times a week.
Carisle Bay in a favorite for Horse Spotting. There are several hotels in the area with Nautilus being one of the most convenient. It's excellent value self catering and ideal for the independent minded traveller. More upscale is Radisson and the Hilton. Of course you don't have to stay on this beach and for a truly delightful holiday consider Settlers Beach Heritage Package for the Independent Minded>>>. You can drive to Carlisle from the west coast within 20 minutes.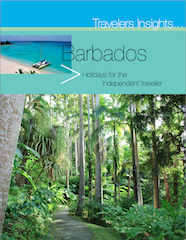 This pacakge combines the best in luxury villa living with an all expenses paid tour of the intriguing old plantation now a world class rum refinery. You can also register to get the free TravelersInsights magazine with stories on the horses, Settlers Beach Villas, the early history of Barbados and the tale of the Abbeys haunting past in the early days of sugar and rum in Barbados.
About the Horse Video
Most of the horses love the water, but it is not always the case and sometimes you can lead a horse to water but you can't always make them take a dip. The horse handler tries to ignore the fact that the filly is avoiding the water. In typical horse whispers style he pretends it does not matter and nonchalantly tries to walk her in. Then a deviating tactic, OK lets just walk the beach, trying to lead her again into the sea. When this maneuver fails he tried to nudge and pull her in, but horse power in too strong and the filly stands her ground.