Barbados Culture: People: Anthony
Barbados Beach Vendor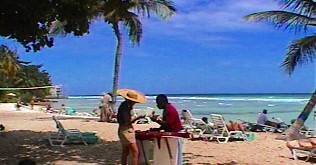 You ordered the rain, man?. I see it coming just when you jus arrive. That was Antony's way of introducing himself as he came to the beach with his folded stall of 3 planks and the red velvet cloth that sat on top. Anthony is a beach vendor-artisan, singer and man with heart. I sat in the shade of the great almond tree on the beach at Coconut Court, taking in the scene and listing to Anthony's good-natured chat with those who sought him out.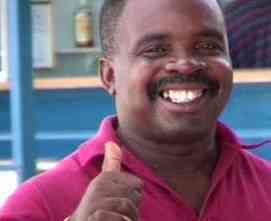 You like to sing, he asked a nearby woman who admired his soft humming while he knitted necklaces of beads. Tell me what you like- I'll sing it for you. I love your English songs, like those drinking songs: .. What do you do with a Drunken Sailor". He sang it, and many other songs, with a deep baritone, powerful and sweet, meeting the challenge of the high notes in a soft voice that did not shout.
"Hey man", he told a boy who wanted a necklace, "how much you can pay?, a dollar. OK here you have it. You happy". He laughed with us as the happy boy took the $30.00 necklace to his mum. "What I need his little money for", he said pulling out a pocket full of cash, "what goes around comes around".



Late in the day a family came looking for a gift for granny back in England. She won't wear fish, the father said looking at a black necklace with a medallion of a fish. "But this is Bajan Fish", he told them. "The fishes just going to love her man. How about this, white coral with pink beads. Lovely, ..Tell you what I'll give you both for $35.00, then she can decide". The English man pulled out a $50.00 bill. "I think I will have done OK by you if I give you this" "Well now" said Anthony" I see you are a decent sort, so here, a present for your wife these nice earrings, and for your lovely daughter, a bracelet. You see what goes around comes around."


Be sure to visit Anthony and many other Beach vendors, on the beachl. You will be touched by the spirit and character of the wonderful people you will meet in Barbados".
PEOPLE AND LIFESTYLES:
---
ANTHONY | DAVID | STREET VENDOR| COCONUT MAN | MARATHON MAN | IRVING BURGIE DONNA'S BEACH GARMENTS | FISHERS | TAILOR| CHOIR BOY | SINGING PLUMBER RUM SHOP (a story) | SIR GARFIELD SOBERS | HUMANITARIAN - OLGA | MUSIC | ARCHITECTURE ARTISTS | RELIGION | CARNIVAL | NIGHTLIFE | VISITORS MEMORIES | HISTORY | NATIONAL HEROES | PEOPLE PHOTOS
---