Mr. Brown Bellamy - The Speightstown Tailor

---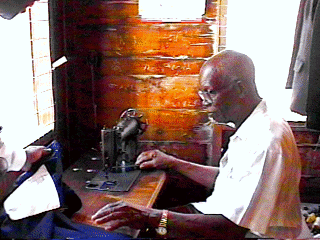 Day after day, he sits and sews,
Tending to his buttons and bows,
Making suits with "loving care",
For the Gents from far and near.

78 year old Barbadian, Mr. Brown Bellamy, owns and operates his tailoring business in Sand Street, Speightstown, St. Peter.

He says....."In the days when I was a boy, it was the custom for the parents to choose their children's profession. My mother died when I was 5, so my Father's sister took over the job of looking after me, She was a good Aunt and when I was 15 she suggested that I learn the trade of being a tailor. I accepted her choice, a position I have never regretted".
Mr. Bellamy has lived all his life in Speightstown, and has operated out of his quaint and compact Sand Street shop for 30 years.
This Bajan tailor sits daily at his Singer Sewing-Machine making suits for the young and old, the rich and poor, happily listening to his radio, always taking time to chat with whoever passes by.
He is married and is the Father of 8 children.
Mr. Bellamy, a proud Barbadian, has survived many changes in his small town, which once prospered as the major port. Now the second busiest town in Barbados, Speightstown is once again on the rise to fame and fortune with the development of Port St. Charles, a new exclusive island community and Marina.
............ Margaret Bourne, 1996

Discover Barbados!