Legend of the Sand Dollar
---
Poems and Poetry | Artists of Barbados | Arts, Crafts and Entertainment | Barbados Tourism Encyclopedia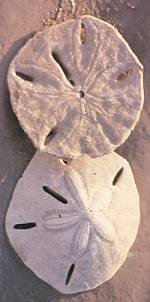 Upon this odd-shaped sea shell,
a legend grand is told
About the life of Jesus, the most
wondrous tale of old.
Its center markings plainly show
the storied Guiding Star
Which led to tiny Bethlehem,
three wise men from afar.
Five wounds suffered by our Lord
from nails and Roman spear
When he died upon the Cross
are wounds shown plainly here.
Within the shell, when opened
five Doves of Peace are found
They celebrate this legend, so may
Peace and Love abound.
Author Unknown
Poems and Poetry | Artists of Barbados | Arts, Crafts and Entertainment | Barbados Tourism Encyclopedia