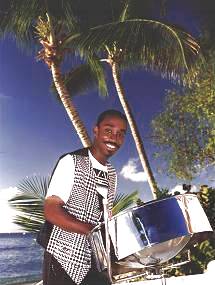 Welcome!!! At Pangroove we go out of our way to keep you and yours entertained. We pride ourselves in our ability to cater to every taste for any occasion big or small, with our Caribbean Flavoured Entertainment package.
Do you need a STEELBAND, to set the right mood for that cocktail party, to dance the night away under a starry sky? Just a Pan soloist for that wedding or other intimate gathering? Maybe you were thinking of something more conventional with a singer and guitarist, while still maintaining that distinct flavor that is the Caribbean, Calypso, Reggae. We do it all, with a touch of class that will make your experience a memorable one.
But that's not all. This is Barbados, why not go all the way? Limbo Dancers, Fire Eaters and Stilt Walkers could add the special trimming that makes the day or night.

At Pangroove Entertainment we have some of the top talent in the land with years of experience in creating the right atmosphere. Our entertainers work in top class establishments, Sandy Lane, Royal Westmoreland, Glitter Bay. We do dinner shows like "1627 and All That", we even welcomed The President of the USA, Bill Clinton, to Barbados. We are sure that we can meet your entertainment needs at very reasonable prices.

Trust us at Pangroove Entertainment to make your special event truly entertaining!
Barbados Music ~ Discover Barbados!
---