Joe's River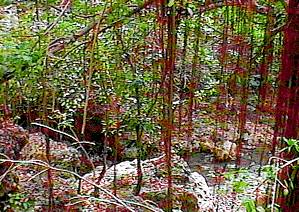 Joe's River Tropical Rain Forest consists of 85 acres of woodlands situated in the parish of St.Joseph. With the imposing Hackleton's Cliff on one side and the picturesque Atlantic Ocean on the other, this site is a nature-lover's paradise!
Following the path from Hackleton's Cliff, you will see rows of Fiscus, White Woods, Cabbage Palms, Mahogany, and Bearded Fig Trees. Enjoy the numerous hills, gullies and plains as you wander through this tropical paradise.
The Forest is the responsibility of the National Conservation Commission which has developed nature trails and picnic areas throughout the Forest. The more adventurous among you might wish to stay a weekend in the rustic wooden houses being built in the Woods!
To discover this and other captivating locations in Barbados, take an island tour