| | | | | | | | | |
| --- | --- | --- | --- | --- | --- | --- | --- | --- |
| | | | | | | | | |
Overview
---
Bookable-ads showcases the 'holiday experience' in a direct and targeted way.
Information on units, rates, specials, photo galleries and shopping services are tailored at the point of buyer interest and at the point of purchase. Because travel buyers often look at several resorts, the feature allows information to be easily added to a shopping list and saved to an itinerary or to a personal website for future planning and purchase.
Interactive Maps
(a form of bookable-ads)
The map is the shopping cart, full of points of interest and goods to buy, compare or save to an itinerary. Everything from quotes to photos, to rooms to 'cost and compare' are available at a click.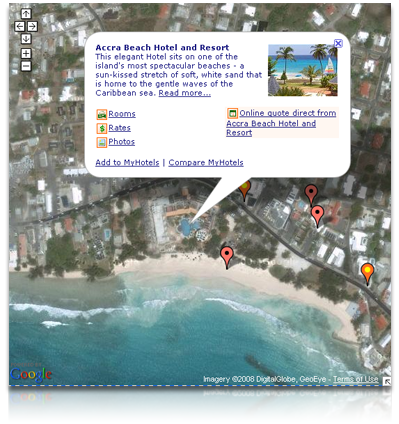 Travelers
---
Holiday planning made easy
Travelers want to comparison shop, and they like to have everything in one place. They are increasingly reluctant to sift through the varied content of multiple resort websites in order to decide which is best for travel dates and travel plans.
Bookable-ads
gives the traveler concise information, instant quotes for dates and family plans. Travelers can add a property or activity to a compare list, save it to an itinerary or website brochure and book it at anytime.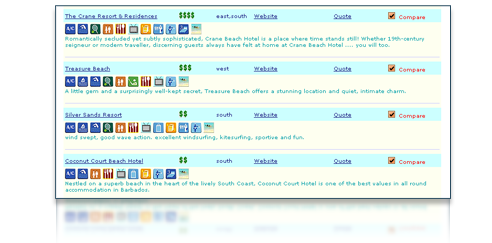 Suppliers
---
Powering brand marketing
Advertising, searching, shopping and buying, once distinct operations in the buy cycle, are merging at a furious pace(i).
New bookable banners include all aspects of the buy cycle...
Bookable-ads and Bookable-banners are one of the first technologies to present a fully integrated buy-cycle solution, from creating awareness to action, in a single point.

Seen above are examples of banners that were previously randomly selected. Now travelers can slide through the banners ads, see rates, rooms, photos, get a quote, add options to a comparison shopping list, book it or save it to a website for future use.

Hotel and tourism branding has merged with the entire shopping cycle in a powerful new marketing system!
Discover how bookable ads optimizes the buying cycle (PDF - 147 KB)
(i) Philip C. Wolf, President and CEO, PhoCusWright Inc.
Portals
---
A compelling reason to return
Advertising is valuable way to monetarise a travel portal no matter what it's purpose - bookings, information, links or social networking. But static banners and ads just touch the surface of potential. Bookable-ads dramatically increase the staying power, keep visitors coming back and ultimately will lead to increased bookings.
The traditional way of linking direct to a suppliers website is still valid but increasingly travelers are demanding more. They want to shop and compare, save for a later date and add new options to their holiday. Bookable-ads makes it fun and gives a compelling reason to return.
Giving Travelers reasons to stay on the site and a compelling reason to return...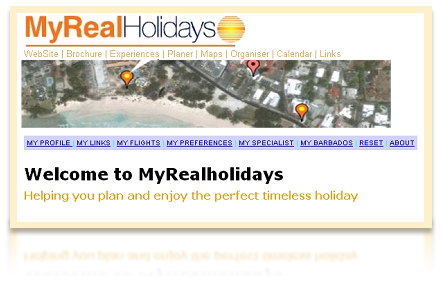 Technology
---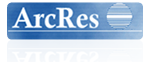 For the bookings, quotes, photo gallery, web info and cost compare features, the supplier must be setup up in arcRes booking engine. This is a full featured booking engine and Central Reservation System. It is very easy to use. arcRes online admin tools are used to manage all portal channels. It powers third party sites like
http://Intimatehotelsbarbados.com
and AXSES channels like
http://BookingsBarbados.com
---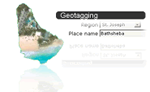 arcMaps combines the power of Google Maps with the wealth of information from the arcRes travel platform and mapping database. Map points are loaded into the mapping database complete with a thumbnail image and text description. This point is cross referenced to the arcRes record. As maps are added the integrated components (such as
bookable maps
) are automatically updated. A simple administration system allows portal administrators to add and edit the map information.
---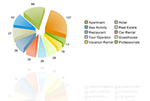 arcAds is a cross platform advertising manager that allows the portal operator to place any kind of ad on any page in the portal. It links to both the arcMaps and arcRes systems. arcAds tracks all clicks on ads and provides up-to-the-minute reports on cost and ROI for each ad placement and for each client.
---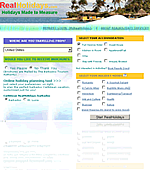 arcReal is the dynamic packaging technology behind
http://RealHolidays.com
. It creates the holiday experience dynamically learning from each click that a traveler makes. The traveler's choices are analysed with the arcReal Expert system which creates a physiological profile of the traveler. The profile is matched against resorts to select those that most closely match.
All travelers are assigned a MyRealHolidays account. Their information is processed aggregated and displayed as a personal website containing links, preferences, maps, photos and itineraries. This is being built into a full featured social network, with pertinent guest reviews and related information. Guest may use MyRealHolidays to plan, build and share their experience and their memories.
Banner and Listing
Maps
Classifications
Banner and Listing
Featured