Paradise Beach

Paradise Beach is a relatively quiet beach located on the west coast of Barbados.
The very popular Cunard Paradise Hotel sat on the shores of this west coast beach and in the early 1980's the beach was a haven of activity as guests enjoyed swims in the tranquil waters, horse rides along the beach, and numerous watersports activities.
With the closure of the hotel the beach became much quieter with the occasional jet ski and fishing boats passing by..
Around the corner from Paradise beach you will find Freshwater Bay and a small fishing village.
A wonderful place for swimming, the area also has some shallow rock formations which may be of interest to the snorkeler.
Paradise Beach adjoins Batts Rock beach and the wooded area between the two beaches is perfect for picnics. (You must use the Batts Rock entrance to access Paradise Beach by car.)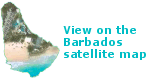 Why not stay on/near Paradise beach?
Attractions and points near Paradise Beach
Other Barbados attractions and points of interest within 1 mile of Paradise Beach

- accommodation and activities with rates, photos and direct online quotes and bookings.


Recommended Barbados Beach Activities