It was not always the case that rum shops wore the colors and graphics of the big brands like Mount Gay Rum, Cockspur, Malilbu, Old Brigand, Banks, Heineken, Piton, Hairoun and others. Somebody likely realized that rum shops had prime real estate that could translate into billboard opportunities. The first conversation might have been, "Hey Mr. Rum Shop Owner, how would you like us to paint your entire shop for you, with graphics and colors that will attract people like flies to your doors. And we'll do it for free, just for being a great customer of our brand".
It would not have taken anytime at all for Mr. Rum Shop Owner to see through that. They are real entrepreneurs and know a buck passing them by.  Pretty soon it would be a bidding war with the best deal getting the privilege of painting their logos on any rum store.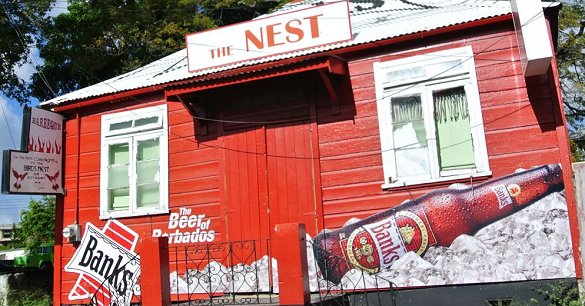 Banks Beer is winning the war today, but that can change. On my unofficial tally of the big brands on the stores, it seems the red, brown and black figures of Banks Beer are on more rum shops than any other. Unofficially, Heineken is next. The rum companies are coming in a distant 3rd, which is odd when you consider that these are rum shops. But it is a huge opportunity for the beer companies to sway opinion and influence rum drinkers to try a beer.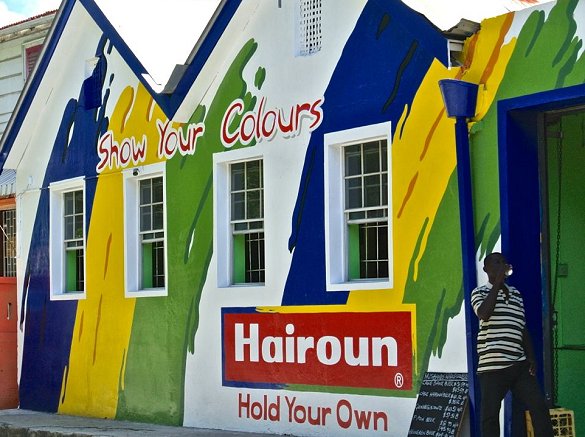 Patrons still drink rum, which they buy in small flasks (mini bottles of about 12 ounces) and drink it straight-up, on the rocks, with water or coca cola mostly. But the number now drinking beers has increased considerably. So I ask again, "What is a rum shop if people are drinking more of everything but rum?"